Understanding the how, when, and where is the most important concept in increasing your website traffic. An increase in site visitations can bring your business opportunities you once dreamed of. Can your business use an increase in sales? How about the ability to reach a new audience or specific region? An increase in website traffic and understanding how to keep the momentum moving in an upward direction will become key to growth. Visit our
help center
or
blog
to learn more about website traffic and SEO.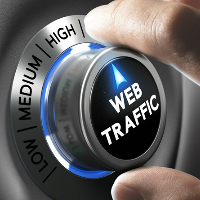 Here are the 7 ways to Increase Website Traffic
1.
Run an SEO Audit Report. 
This is mandatory. Understanding where you fall in place against your top competition is critical. If your business has no online presence then get an SEO report on the two best competitors in your industry and region. Don't skip this step as I consider it to be the most important by far. That data can be analyzed and used to develop a marketing strategy for your business. Get your
Free SEO Audit
completed at no cost and no obligations. We'll even take the time to help you understand the report and develop a strategy to get your business moving in the right direction.
<!-- Begin MySiteAuditor --><!-- [et_pb_line_break_holder] --><script src="//cdn.mysiteauditor.com/audit-tool.js" type="text/javascript"></script><!-- [et_pb_line_break_holder] --> <!-- [et_pb_line_break_holder] --><div id="seogroup-embed" data-apikey="f294464965f0e52c7a3ac1ac7cccf95f743c2dfb" data-language="english" data-type="slim" data-hex="#61B13B" data-hex-form="#F0F0F0" data-hex-text="#555555"></div><!-- [et_pb_line_break_holder] --><!-- End MySiteAuditor -->
2.
Keyword Research & Strategy. 
Take a moment and think about how you spend your time researching online. 99% of the time it all starts on a search engine such as google. Let's say for a moment your a potential customer trying to find the services your company offers. What would they be looking for? How will they find you? What will make your business outrank your direct competition in the search results? It all starts with building your online presence tailored around keywords specifically related to your business. This is constantly changing and varies based on location and human behavior. If you have a google account (if not make one now) you can use the
keyword planner tool
to build out campaigns and research popular keyword searched in your area. For research and planning purposes we're focusing on keywords related to the accounting business you've decided to open in Los Angeles, CA. We searched the keyword accounting for the month of April 2018 and it returned over 450 keywords directly related to what potential customers are searching for online. I pasted part of the example below and the full accounting keywords report can be
viewed here
.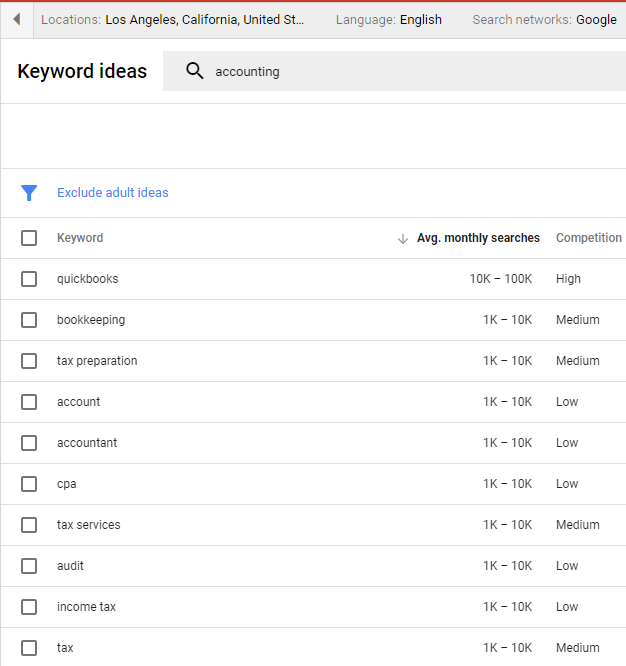 The competition is fierce in this particular field but a qualified SEO consultant or agency will find opportunities to grow your traffic without breaking the bank. Some of those keywords for pay-per-click ads can cost up to $70 a click. Develop a strategy to leverage your industry keywords with good quality content.
3. An Optimized Website. Maintaining, securing, and improving the speed of the website play a vital part in site traffic and search engine rankings. If your website is full or errors and latency issues expect google to penalize your ranking overtime. Search engines are going to crawl your website frequently. It's important all the site content is prepared to endure the crawling and indexing robots of google. Learn more about google crawling and indexing process by watching the video below. Keep your content fresh, technology updated, and go the extra mile and purchase an SSL certificate.
4. Social Media. Get engaged on the social media platforms that are relevant to your business. If you're a local restaurant then shift your attention to a platform in which you can visually share your stunning dishes. Instagram, Facebook, Snapchat, Foursquare, Yelp, and Google just to name a few. These are good platforms to target specific interests, location, and age. Focus on where your potential customers are and what's relevant to your business. Keep the content fresh, stay engaged with your audience, and get customer reviews. The top three most visited websites in the world right now are google, youtube, and facebook. It's important to include google and yelp in this section since customer reviews play a major role in social media. Google plus is growing and google my business is a major source for traffic opportunities.
5. Fresh Content. Years of creating valuable content that ranks high on search engines can be washed away by the lack of fresh content. On average companies will suffer a fifty percent drop in organic website traffic from just a 90 day break in action. Keep fresh content coming most importantly directly on your website. Your website should always be the most important source for content delivery. Leverage the other platforms to share additional content and to advertise. Blog and tell the entire world about your blog by sharing it. Write helpful articles related to keywords in your industry and I guarantee your website traffic will begin to increase. Fresh content will increase website traffic, leads, and sales.
6.
Backlinks. 
When I first got into SEO, I didn't understand the significant impact that backlinks would have on my website traffic. As time went on, our online presence grew through business listings, client projects, and community involvement. Build out quality backlinks to your website through guest posting/blogging, local citations, social media outlets, business network profiles, and so on. Stay away from any
black hat backlink building techniques
. This will damage your sites reputation online and can cause a drop off google search engines completely. Quality backlinks improve page rankings.
7.
Study The Analytical Data.
Implementing the steps above will increase your site traffic and the amount of data that can be analyzed. Analytics is a valuable asset that we can use to figure out the traffic flow and behaviors of the site visitors. The information
google analytics
provides is extremely resourceful and often plays a crucial role in developing the next marketing campaign. Three months of data is a good rule of thumb approach to studying the analytical data.
We challenge you to implement everything that was mentioned in this article and we guarantee and increase in website traffic.
Free SEO Audit
Understand your target audience

Analytics on business rankings online

Detailed report on your business content

The truth why your not converting leads
Factual information about online presence
Rank Activate did an excellent with our website. We look forward to working with them in the future. Their SEO ability has increased our traffic on the site and extended our reach to people we would not have been interacting with before. Highly recommend these guys.